I recieved a bottle of ProLinc Diamond Dry Air Dry Top Coat free with purchase at Sally Beauty Supply during one of my many trips to buy China Glaze nail polish. They were running a deal that if you bought 2 China Glazes you got a free bottle of Diamond Dry. Diamond Dry retails for $6.99 if you have a Sally's Beauty Club Card or $7.99 without the card. The bottle says its Toulene and Formaldehye Free, but in the contents I don't see DPB listed either. I've been using Seche Vite, but I'd like to find a good quick dry top coat that is 3 free.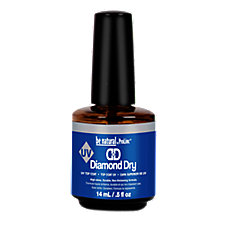 Diamond Dry does dry really fast. I used it over a polish that wasn't drying as quickly as I would have liked and this dried it pretty quickly (3 layers polish + base coat). It isn't glossy, but it does have decent shine to it, see my post of
Elephant Walk
. I've used it over a few manicures and it is pretty durable. I've had some minor chips after a day or two, and that's really good for me. My nails are really weak right now and I'm really hard on my hands. I had no shrinkage with Diamond Dry the few times I've used it.
The verdict, I'll keep using this. I'd buy this again if it was on sale at Sally's, not sure if I'd pay 6.99 for it, and I'd never pass up a free bottle. I have a few other's to try out before I decide what my favorite is, but this one is is the running.