I used to bite my nails as a kid, so my nails were a mess for a long time. Then when I was nervous or bored I would pick my cuticles. Both are terrible habits. I can't stand it when I break and nail or hang nails. I have to something with them right away or I'll pick at them and make it worse. These days I keep a nail kit close by for nail emergencies, it has a file, buffer, clippers, and cuticle cutter in it and I've always got hand lotion and some type of cuticle treatment in my bag.
I have learned so much in the last few months about nail care and all the products available. For the first time in my life I've actually got full, healthy cuticles on all of my nails. These are a few of my favorite cuticle treatments that have gotten me there.
Burt's Bees Lemon Butter Cuticle Cream - I have been using this and the peppermint lip balm for years, and it is my favorite. I keep a tin of it in my purse, in my work desk, and by my bed. It is a little greasy, but I've been using it for so long it doesn't bother me. It is mostly made of oils (almond, sunflower, and vegetable) and waxes (beeswax and candelilla). I get painful, swollen hang nails on a regular basis. I put this on at night and wake up and it feels better and the swelling is usually gone. You can buy it directly from their
website
or you can find it at most drugstores, grocery stores, Target, Wal-mart, etc for around $6 for the .6oz tin. It lasts forever and in a pinch you can use it as a lip balm. If you don't like greasy products during the day, I would recommend this at night. I use it all the time.
European Secrets Hoofer's Choice Nail and Cuticle Cream - I got this at Sally Beauty Supply for $2.99 with my card for a 1 oz tub. It is 3.49 if you don't have the club card. Unlike the Burt's this is creamy and more like a lotion. It isn't greasy. I use this when I don't have hang nails or I got to bed without polish. I smells a little medicinal, it has Menthol in it so it smells a little like Vick's Vapo-Rub. I don't feel like I get as much moisture from this as I do the Burt's, but it's good when I want something that isn't greasy. It does have beeswax, lanolin, soybean oil as the top ingredients. A little goes a long way, but I apply it more frequently than the Burt's. I'm not thrilled about the smell, but it goes away quickly.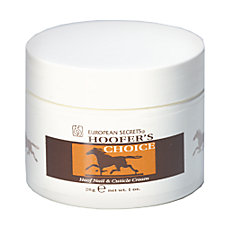 Sally Hansen Nail Nutrition Green Tea + Soy Cuticle Oil - I picked this up for vacation because I like to use cuticle oil on my nails after I finish painting them to help speed up the drying process and prevent smudging. This is a tip I picked up from Tip Tip Nails South Africa's facebook page. The tube is .21 fl oz/6.3ml and comes with a brush, and it retails between $5-8 and is available at most Sally Hansen retailers. I needed something that would fit in my makeup bag and this fit the bill. I'm hoping I can refill it when it's empty. It absorbs pretty quickly so your hands and fingers aren't oily forever.
SuperNail Cuticle Oil - I pretty much only use this after I complete a manicure to help speed up the drying process. I put some on a cotton ball and swipe it on each nail after the top coat has dried for a few minutes. You can certainly use it as a cuticle oil as well, and sometimes I do. Another tip I got from Tip Top Nails was to rub cuticle oil onto polished nails before bed to keep the polish pliable and flexible so it doesn't chip. It is $2.79 with card and $2.99 without at Sally's for an 8 oz bottle. I use it every few days and it is lasting forever. It absorbs pretty quickly, so you don't have oily fingers for long. I noticed that if my nails are still wet this oil will bead on the nail. The Sally Hansen oil doesn't bead.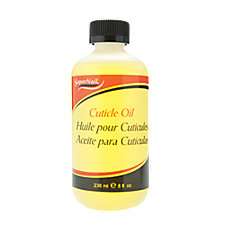 What are your favorites? I hear Lush Lemony Flutter is great, but I haven't tried it yet.